[subject]Parashat Eikev | פרשת עקב|כג אב ה'תשעט|08-24-2019[/subject]

Parashat Eikev - פרשת עקב
כג אב ה'תשעט - 08-24-2019
DAVENING TIMES
Candle lighting
18:39

(1)

Mincha Erev Shabbat
18:59
Shaharit
08:30
Mincha
18:49
Arvit and Havdala
19:51
(1) summer time : minha 20 mn after candles lighting
Events
Here is information on our temporary locations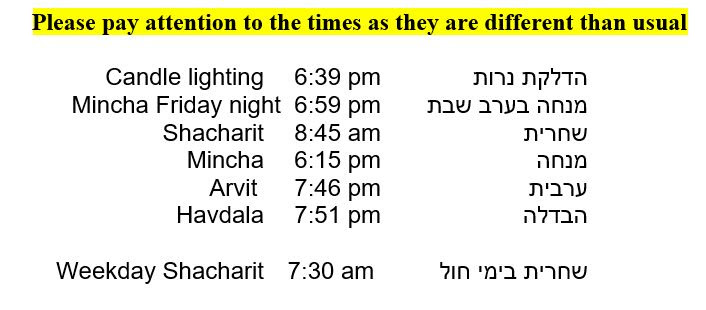 The 7:30 Weekday shacharit minyan is being held at the Chursha synagogue. This minyan accommodates both men and women. See map for location.
We will be davening this Shabbat together with Kehilat Arnonim at Midreshet Lindenbabum, Leib Yaffa 51, on the main floor in the girls' Beit Midrash.
Next Shabbat we hope to hold services in a location closer to the Beit Boyer building where we can be together as a kehila.
D'var Torah
Moshe Lorberbaum
Children's activities
Children's Parsha Sheets
Children-oriented Parsha Sheets will be available at our shul and by clicking here. These sheets are prepared by Dina Gavrieli, granddaughter of Gideon and Miriam Bar-Lev.
Brachot
Mazal tov to Sara and Hanoch Rosenzweig
Mazal tov to Sara and Hanoch Rosenzweig on the birth of a grandson to Ariel and Dror Peretz, brother to Sahar.
Weekly Shiurim
Guemara Masechet Bava Batra
On weekdays, Rabbi Ellis Bloch gives a Gemara Shiur (Bava Batra) immediately after Shacharit. (In English)
Tanach Shiur with trans-Tanach approach
The weekly Sunday evening Tanach shiur led by Ben-Zion Levinger, is on summer vacation.
Shabbat Shiurim
Shabbat Shiur
Shabbat Shiur Diane's shiur won't take place this week.
General infos
Happy announcements
We are delighted to include a mazal tov about your happy family occasion in the daf kesher, thus sharing the simcha with the kehila. All you have to do is send the details about the simcha to beitboyer
Please spell all names in your messages in both English and Hebrew to ensure correct spelling on the Daf.